Nash/Hudson Metropolitan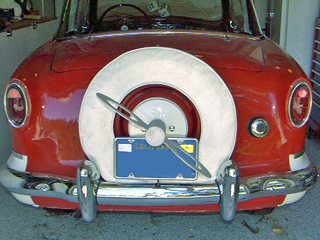 These are available as a motorized or free-spinning design.
Mounts on the hub cap for the spare tire in place of the license plate light housing. Power for the motor can be supplied from the license plate light circuit or from a separate customer provided circuit/switch.
High intensity LED lights are provided to replace the removed license plate light.
.
Comes with 4-wire hookup so that it can be used with either the original 12V positive ground systems or Metros that have been converted to 12V negative ground system.
Application

Motion

Color

Model No.

Price

Hubcap Mount
Free-spinning
Silver

WUK-NMR-FS-S

$200

Satin Black
WUK-NMR-FS-B
Motorized
Silver

WUK-NMR-MT-S

$250

Satin Black
WUK-NMR-MT-B
Standard shape is ROUND style and standard finish is "sparkle silver" or "satin black" powder coat. Be sure to select correct model number when ordering.
Other options are extra.
Shipping to all 50 US states is included in above prices. Inquire for added shipping costs to other countries.