<![if !vml]>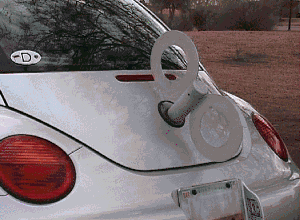 <![endif]>Imagine your favorite car with a windup key that actually turns while you drive!
If you are interested in getting one of these unique and attention getting windup keys for your car, then check out my other web pages using the navigation bar at the left or the
links at the bottom.
Latest Update – 01/07/16

We had a significant web outage starting after 11PM MST on 1/6/16 caused by an DNS issue. This has been fixed but may take until noon on 1/8/16 to fully propagate across the internet. During this time emails may be automatically returned. Please resend any messages that you may have sent after 11PM MST on 1/6/16 and before noon 1/8/16. I am sorry for the inconvenience.
We're still making these unique windup key products!

Several new models available:
Fiat 500
Nissan Versa
Scion Iq
Also created some special types:
New ruggedized "theatrical" version for humans in stage shows!
Whimsical battery-powered versions for pets in Halloween costumes!
Inquire about new models.....

Please be advised that an "ORDER" is only valid if at least a deposit is made. Over the past several months I have had several customers "order" a specific windup key, but then do not pay a deposit (and ultimately not pay the full price). I have tried to be friendly to all orders, but in the end those who do not follow through divert my inventory to build keys that ultimately are not paid for. This delays those orders for the good folks who are actually serious and pay! If I send a PayPal invoice requesting at least a deposit and it is not paid within 7 days, the "order" is void!
Website to be upgraded soon.....
"Adding fun to motoring."
If you cannot see the navigation bar on the left, then try
opening a new browser window to my website by clicking here.
[Home] [History] [Construction] [Models] [FAQ]
[Gallery] [Ordering] [Sale Items!] [Custom Keys] [ Contact Us!]
Revised: 12/19/15